Double Arm Mixer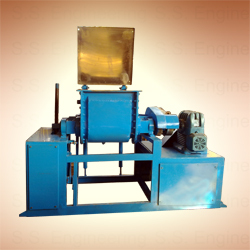 Double Arm Mixer
Price And Quantity
Piece/Pieces, Piece/Pieces, Piece/Pieces

100000.00 INR
Product Description
Double Arm Mixer
Enriched with keen understanding and knowledge in the chemical processing equipments manufacturing industry, we are noted as one of the foremost manufacturers and exporters of Double Arm Mixer. Widely used in different industries like dyes & pigments, chemical, confectionery and food products, our arm mixer is in high demand owing to its easy installation, negligible maintenance and less power consumption. Our customers can avail this Double Arm Mixer from us as per their requisite specifications and demands.
Further Details:

S.S.ENGINEERING have developed robust SIGMA MIXER for various operations of high viscosity material mixing , kneading, grinding, dispersion ,drying etc. for long term trouble free process

SIGMA MIXERS are used for processing Viscous to highly Viscous material in various industries viz. Adhesives, Brake lining, Chemical, Confectionery, Carbon Black, Ceramic, Dyes & Pigments, Food Products, Fiber Glass, Grease, Lead Storage Battery, Magnetic Tape Coatings, Paint, Polymers Plastic, Putties, Plastic, Pharmaceuticals, Printing ink, Resin, Rubber, Soaps & Detergent etc.

CONSTRUCTION

SIGMA MIXER consists of two counter rotating blades in a rectangular trough curved at the bottom to form two longitudinal half cylinders and a saddle section .The blades are driven by gearing at any side end. Container made of either Mild Steel or Stainless Steel 304 or 316 with jacket of Carbon Steel covering two side for heating or cooling application & dust free cover to get Vacuum if desired or normal cover.

SIGMA MIXER BLADE The mixing elements (Blades) are of Sigma type Steel casted and duly finished two in number which contra rotate inward fitted at close or specified clearance with the container to give thorough and uniform mixing. There is a Gland pusher of Gun Metal Bush which ensure minimal friction and extend the life of mixing elements (Blades) Shaft.

BLADE ACTIONThe mixing action is a combination of bulk movement, smearing, stretching, folding, dividing, and recombining as the material is pulled and squeezed against blades,saddle, and sidewalls. The blades are pitched to achieve end-to-end circulation. Rotation is usually such that material is drawn down over the saddle. Clearances are as close as 1 mm - 2 mm.

The blades are tangential. Tangential blades are run at different speeds, with the advantages of faster mixing from constant change of relative position, greater wiped heat-transfer area per unit volume, and less riding of material above the blades.

The sigma-blade mixer is capable of starting and operating with either liquids or solids or a combination of both. The sigma blade has good mixing action ,readily discharges materials which do not stick to the blades, and is relatively easy to clean when sticky materials are being processed.

DRIVE The Drive Consists of Motor of type TEFC Or TEFC Flameproof of Specified HP.1 440 RPM, Reduction Gear Box Of Reputed Make having suitable size and ratio, Spur Gears, are also provided of adequate size and having machine cut teeth, between the front and rear blade complete with guard suitable for grease lubrication.

STAND The complete Mixer is Mounted on Steel Fabricated stand of suitable strength to withstand the vibration and give noise free performance.

DISCHARGE (Bottom Discharge) Bottom door or valve will be used when 100 percent discharge orthorough cleaning between batches is not an essential requirement.

TILTING DISCHARGE If 100 percent discharge or thorough cleaning between batches is essential, double-arm mixers are tilted for discharge. The tilting mechanism may be manual, motorized mechanical, or hydraulic.

STANDARD FEATURES: Up to 150 litres, include a manual discharge and motorized mechanism and above heavy duty hydraulic tilt mechanism up to 100 degrees rotation forward as standard.