Industrial Vibro Sifter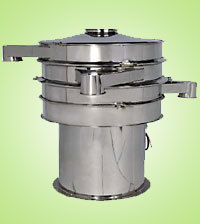 Industrial Vibro Sifter
Product Description
S.S. ENGINEERING VIBRO SIFTER is used to separate different sizes of solid particles.
The principle of working Vibro Sifter is to separate the solid material through a Vibrating sieve.
The top weight on the motor shaft rotates in a plane close to the centre of the Motor assembly plate.
The rotation of the top eccentric weights create a vibration in the horizontal plane which causes the material to move across the screen cloth to periphery increasing the horizontal throw causing oversize material to discharge at a faster rate.
The bottom eccentric weight rotates below the centre of the plate creating tilt on the screen giving vibration in the vertical and tangential plane. Increasing the vertical component of motion, this promotes turn over of material on the screen surface helping the maximum quantity of undersize material to pass through the screen. Rugged Springs placed over the circular motor base amplifies the vibration.
Salient Features
Double and triple deck arrangement can be provided
Faster output and low power consumption
Easy dismantling and cleaning
All contact parts made of S.S.304 or S.S.316
Wide range of screen size 30 to 300 mesh
Standard motor with TEFC explosion proof /flame proof
Quick opening clamps where frequent opening is necessary due to requirement of cleaning
| | | | |
| --- | --- | --- | --- |
| SIFTER | 24 inch Dia | 36 inch Dia | 48 inch Dia |
| Over all Dimensions | 800 mm L X 750mm W X 1250 mm H | 1150mm L X 1150 mm W X 1000 mm H | 1450 mm L X 1450 mm W X 1450 mm H |
| Weight | 90 to 200 kgs | 150 to 300 kgs | 300 to 500 Kgs |
| Speed ( R.P.M.) | 1440 RPM | 1440 RPM | 1440 RPM |
| Utility Requirement Electricity | 0.5 ph 50 Hz, 415 volts | 3 ph 50 Hz, 415 volts | 3 ph 50 Hz, 415 volts |
| Top lid Provided | Conical in shape with hopper | Conical in shape with hopper | Conical in shape with hopper |
| Electrical Requirement | 0.5 hp | 0.5 hp | 1.5 hp |
| Power Supply | 3 phase 440V A. C. | 3 phase 440V A. C. | 3 phase 440V A. C. |
| Total Electrical Load | 0.5 hp | 0.5 hp | 1.5 hp |
| Clamps, Ring, Side Covers, etc MOC | SS 304/SS 316 | SS304/SS 316 | SS304/SS 316 |
| Gasket | PTFE / Food Grade Neoprene | PTFE / Food Grade Neoprene | PTFE / Food Grade Neoprene |
| Surface Finish | Inside outside | Inside outside | Inside outside |
| M. S. Parts | Painted | Painted | Painted |
Trade Information
All India

ISO : 9001 , 2008